Here is our selection of Golden Circle tours
The Golden circle is perhaps one of the most popular day tours in Iceland thanks to both how accessible it is as well as how much it has to offer. Day tours to this essential destination depart from Reykjavik every day and can be experienced in a number of ways. There is the "Grand Golden Circle" which offers all of the sights of the golden circle and includes a stop off at the Kerið volcanic crater in a full day trip. For those who want to sleep in or want to do the trip a little bit faster we also have the "Golden Circle Afternoon" which covers the whole Golden Circle in 6 hours and departs later in the day!
The options don't stop there though, the Golden Circle is a perfect day tour for combo tours thanks to it's centralized location and close proximity to other popular destinations (like the Langjökull glacier for example). Why not give our "Golden Circle and Secret Lagoon" tour a try for a day tour that combines the sights and history with a chance to soak in warm geothermal waters.
What can we see at the Golden Circle?
You have the Þingvellir national park which was home to the world's first parliament as well as the site of the silfra fissure were the American and Eurasian tectonic plates are separating.
There is also Gullfoss the golden waterfall, one of the largest waterfalls in Iceland and the Geothermal paradise of Geysir where you can see frequent hot spring eruptions.
Our day tours will take you to all these essential stops and more as we share with you some of the highlights of Icelandic history and nature all in one magnificent route through the Icelandic countryside.
For more details on the Golden Circle, click below.
See what we have to offer
Golden Circle Tours
The Golden Circle Route
Below you will find a map detailing the Golden Circle route and the way that the bus will drive. Depending on the Golden Circle tour that you choose your route may not be exactly the same as this but additional stops will be listed on each tour page.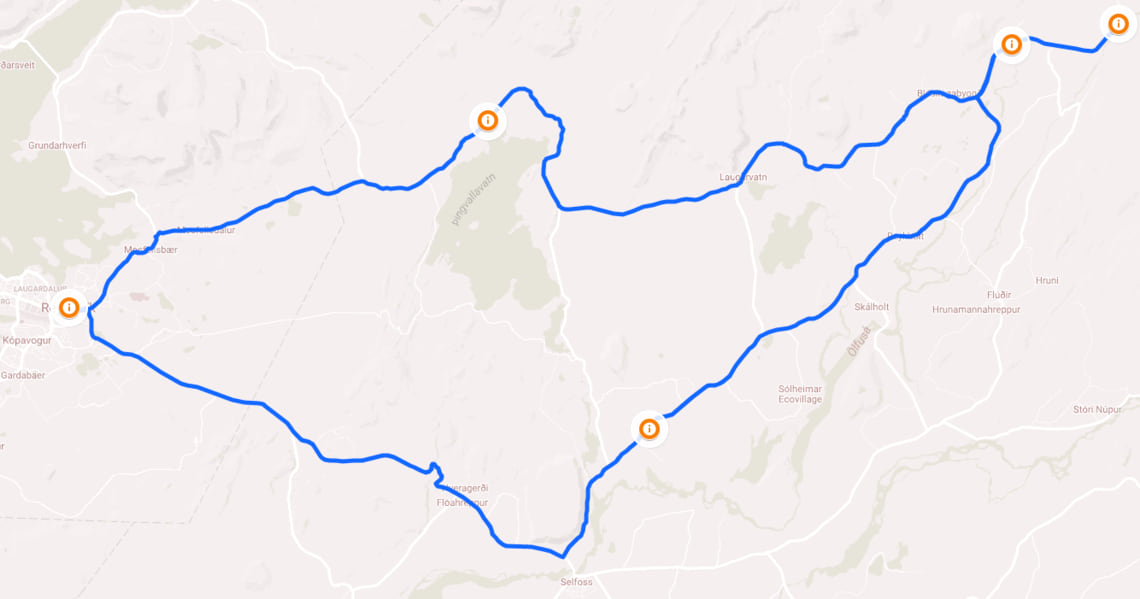 Looking for something to do in Iceland?