Small Group Northern Lights Tour
Join us on a trip to see the elusive Northern Lights. Our small bus version of this tour is run exclusively in small groups and will start with a visit to the Aurora Reykjavik Centre.
Duration: 4 Hours
Very easy
Electronic voucher
Pickup available
Book online and get instant reservation confirmation
Description
The dancing aurora borealis, or northern lights, are truly one of the unique wonders of the world. Iceland is a leading northern lights destination perfectly situated at the edge of the arctic circle, perfect for spotting the Northern Lights.
Our Northern Lights Team works hard throughout the day, checking on weather data in order to best predict a location where the lights should be clearly visible. The locations visited are different every night, as we travel to the most optimal locations to view the lights on that particular evening. As this tour is weather dependent and sightings are not guaranteed, you are welcome to join another northern lights tour free of charge if you do not see the lights.
Our small group version of the Northern Lights Hunt offers a more personalised experience as there are fewer passengers per expert guide. 
When you buy a ticket for this tour, there is an extra special bonus, a free ticket to the Aurora Reykjavík Museum in downtown Reykjavík. You can visit the museum at any time during the day and we can pick you up for the tour at the museum if you wish.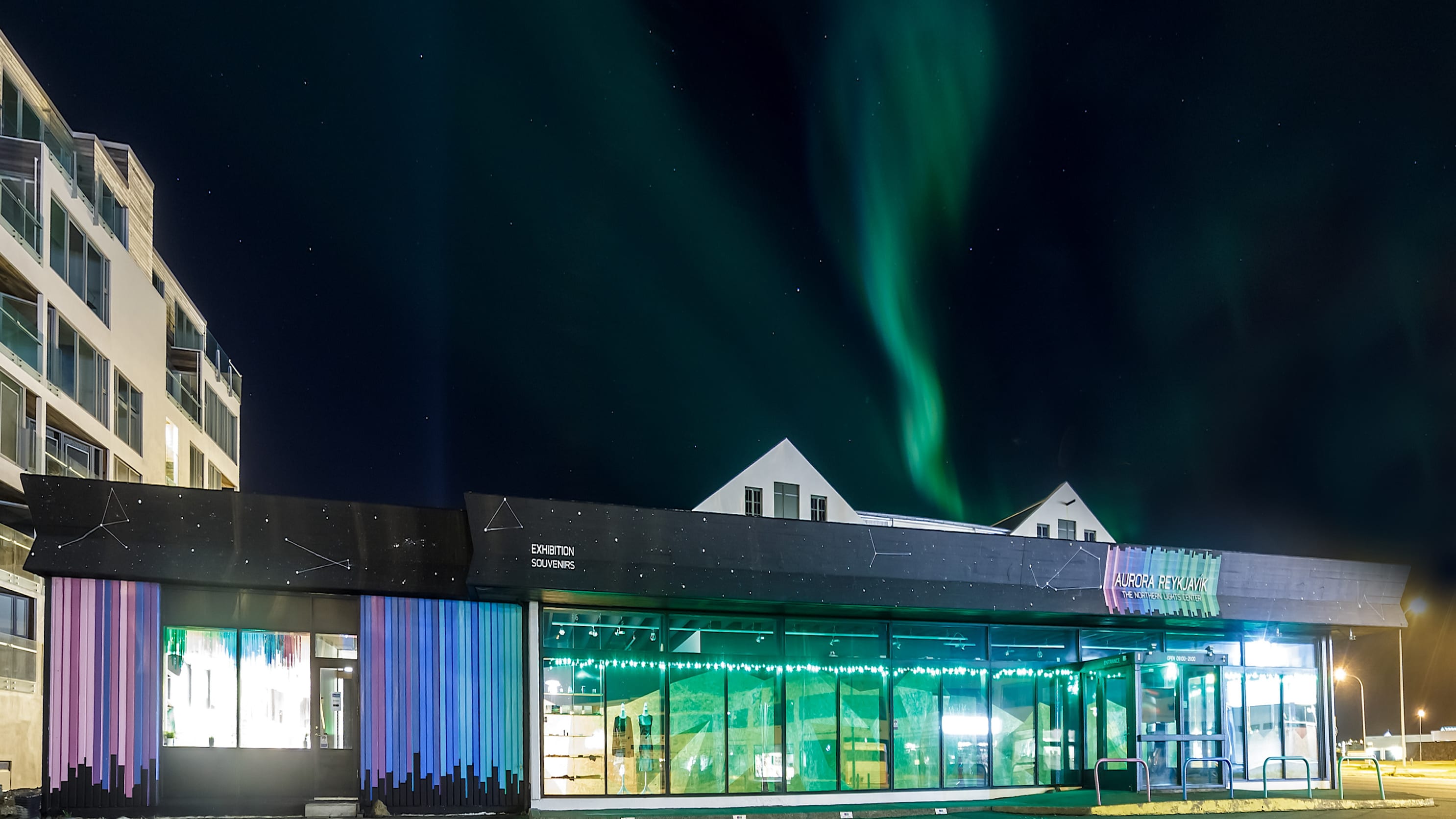 📷
The Aurora Museum is a great introduction to the science and wonder of the  northern lights. This multimedia exhibition offers interactive displays and an educational centre outlining how people and cultures around the world interact and think about the Northern lights. The Museum also has information on the best camera set-ups to make a lasting memory of your time in Iceland.
Highlights
Northern Lights hunt with experienced specialized guide
Warming hot chocolate
Icelandic snacks
Free visit to the Aurora Centre 
Tripods
Northern Lights
Itinerary
Your Northern Lights experience starts off with a smooth pick up from hotels and designated locations in Reykjavik, included in the price. Our northern lights experience includes a visit to the Aurora Reykjavík - Northern lights Centre where we will start the evening and your tour. Their state-of-the-art exhibition and northern lights experts will prepare you for your evening tour by providing information on the science, myths and legends of the Northern Lights. Their in-house photography experts will also assist you with setting up your camera to ensure you will get the best photographs on your tour. After this visit we will depart into the night to find the best display, expertly managed by our specialist northern lights guides and complemented with tasty hot chocolate and Icelandic snacks.
Aurora Reykjavík
Aurora Reykjavík is a Museum and Northern Lights Centre based on a multimedia exhibition including both, educational centre and interactive displays of the lights. You will get into the science behind the Northern Lights, dive into stories and legends regarding them and get instruction on how to adjust your camera for superb Northern Lights photographs. One of the many highlights of the visit is a magnificent film with an aurora display seen over Iceland. You are also able to relax over a cup of coffee or tea and rent a professional camera if you require.
Northern Lights Hunting
The Aurora Borealis, known commonly as the Northern Lights, is a naturally occuring light display, commonly seen in high latitude locations. These ethereal lights are formed when solar winds agitate the magnetic field of the earth, ionising the particles and causing them to give off light which we see in the form of the wispy bands of colour across the night sky. The aurora can form in a variety of colours depending on the altitude of the particles where they become ionised.
Reykjavik city has a high level of light pollution, making it difficult to get a good view of the aurora. Therefore, this tour takes place away from the city, in the darker countryside. Our in-house expert Northern Lights Team and your guide will make this a memorable experience, providing you with all the necessary information required to understand this phenomenon and will take you to the best possible location to view the Aurora Borealis. With a maximum group size of 18, you can be assured of a much more personalised experience, tailored to the needs of the group and to provide the best possible chance of seeing the lights. You may visit several locations in one night, whilst hunting the lights or you may get lucky with your first destination. When at the locations you will have time to leave the bus, observe and explore. You will have plenty of time to take some photographs, under the expert direction of your guide. If you don't have any photography equipment with you, you will be able to rent a camera at the Aurora Centre, and we can provide tripods that you are welcome to use. Please note that there are only a certain number of tripods and cameras available, so bringing your own is always a great idea! 
You can count on the Bustravel Iceland team doing everything within their power to make the night outstanding for you. 
Hot chocolate and refreshments
The Northern Lights are wild and unpredictable, so hunting the lights requires a lot of patience and warm weather appropriate clothing. We provide warming hot chocolate and quintessential Icelandic snacks to complement your evening tour. Please make sure that you are prepared to spend some time outside in the arctic winter, warm clothing is an absolute must.
What if we don't see the Northern Lights? 
It is a unique opportunity in life to witness a natural phenomenon such as the Northern Lights and no single display of the Northern Lights is ever the same. The scientology behind the aurora requires many factors to work together in order for us to see it; minimal cloud cover, low light pollution and activity of the Northern Lights. Although Iceland offers ideal conditions for the lights, they can never be guaranteed. 
If you are unfortunate not to get a sighting on our tour, we offer a free rescheduling to another evening. Details of how to rebook in case of no lights will be supplied by the guide. The offer for rebooking is valid for three years from the date of your first tour departure.
At the end of the night, we'll bring you back to Reykjavik and you will be dropped off at your preferred location. 
Please note that the duration of the tour is normally 3-4 hours but can vary in length depending on weather conditions on the evening.
Important information
Make sure to note down your pickup times and Departure Times. Pick up can take up to 30 minutes starting from the time on your ticket. Please wait at your hotel / guest house in this time span. We collect our guests with several mini buses, so please be aware that you may need to change busses at a meeting point before the tour begins!
Please note, children under the age of 8 are not permitted on this tour. For further information on travelling with young children click here

What's included
Free entrance to Aurora Reykjavík
Northern Light hunt 
Experienced guide
Free pick up and drop off
Hot chocolate and refreshments
Tripods
In case that you don't see the Northern Lights, you can reschedule for free to BusTravel Iceland's non-premium Northern Lights Bus Tour as often as you want until the beautiful aurora is seen. 
What do I need to bring
Warm clothing and good sturdy shoes
kr
9,990
4 Hours , Very easy